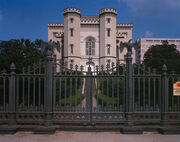 Het Old State Capitol Building, een nationaal historische bezienswaardigheid, is gelegen in het centrum van Baton Rouge, naast de rivier de Mississippi op 100 North-Blvd. Momenteel huisvest het de Old State Capitol Center for Political and Governmental History, die verschillende "state of the art" exposities bevat.
Men zegt dat er een geest van ene "Pierre" ronddoolt. Verscheidene bewakers hebben gemeld dat er alarmsignalen (meestal bewegingsensors) midden in de nacht afgingen terwijl de bewakingscamera niets aangaf.
Op een zekere nacht had een vrouwelijke bewaker een glimp opgevangen van Pierre in de ruimte waar de senators elkaar ontmoetten (boven). Tevens meldden de bewakers en de gidsen gevallen waarin deuren openen en dichtgaan wanneer er niemand aanwezig is in het gebouw.
De geest van "Pierre", waarvan vermoed wordt dat het een senator of congreslid is, is op de leeftijd van ongeveer 40 jaar overleden door een hartaanval als gevolg van een politieke kwestie waar hij bijzonder overstuur over was. Hij heeft nooit kunnen beginnen aan zijn ambtsperiode. Er wordt gezegd dat hij waart door het bovenste deel van het Old State Capitol Building.
Community content is available under
CC-BY-SA
unless otherwise noted.